URGENSI PERATURAN DAERAH SEBAGAI SOCIAL ENGINEERING DALAM PENANGANAN COVID-19
Agus Tri Widodo

Sekretariat Daerah Kota Magelang
Keywords:
Covid-19, Local regulations, Social Changes
Abstract
Corona Virus Disease (Covid-19) which is designated as a National Non-Natural Disaster, has various consequences in its handling. This article aims to discuss two things. First, why did local government not follow up on policies to handle Covis-19 with local regulation as legacy of regional policies. Second, how is the role of local legal products as Social Engineering. With statute approaches and conceptual approaches as the instrument of the analysis, this article argues that local legal products based on regulations or provisions are crucial in the effort to legalize local government policies in handling Covid-19. The public participation in policy formation also essential to reduce the conflicts if interest and be implementative.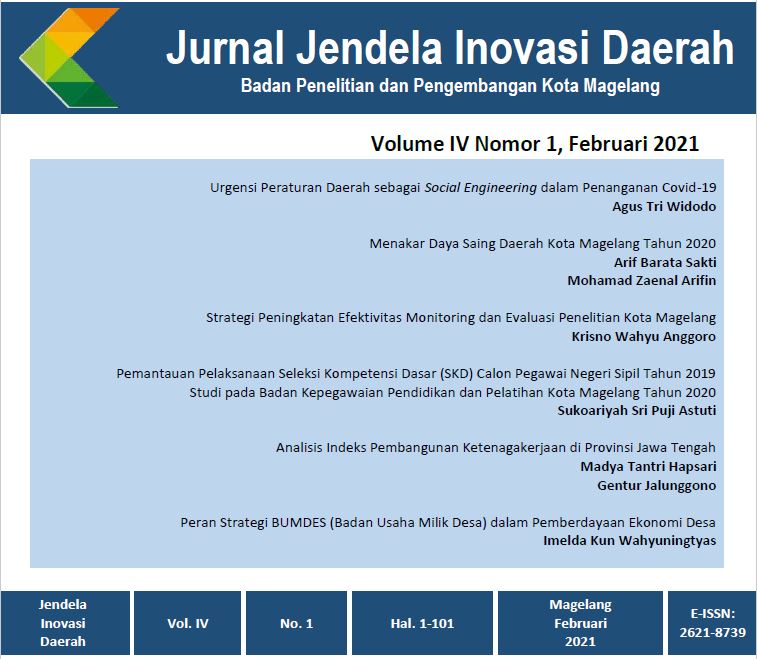 How to Cite
Widodo, A. T. (2021). URGENSI PERATURAN DAERAH SEBAGAI SOCIAL ENGINEERING DALAM PENANGANAN COVID-19. Jurnal Jendela Inovasi Daerah, 4(1), 1-15. https://doi.org/10.56354/jendelainovasi.v4i1.100
Copyright (c) 2021 Jendela Inovasi Daerah
This work is licensed under a Creative Commons Attribution-NonCommercial-NoDerivatives 4.0 International License.