DISIPLIN PEGAWAI NEGERI SIPIL DI MASA PANDEMI COVID-19
Mulyaningsih Mulyaningsih

BKPP Kota Magelang

Doni Rustanto

Badan Kepegawaian, Pendidikan dan Pelatihan Kota Magelang
Keywords:
Discipline, Performance, Work From Home
Abstract
Covid 19 Pandemic has changed the new practice of civil servants' work system. It changed the work system from work from office to work from home, direct supervision to indirect supervision. This situation provokes further question of how the civil servants maintain their work performance and discipline. The objective of the study is to describe the practice of work performance and discipline during the implementation of work from home policy. For that purpose, we carried out a qualitative descriptive study and gathering the data by conducting interview, survey and observation. The findings showed that work discipline during the implementation of work from home policy were not optimally practiced, meanwhile the work performances were quiet good. In addition, this study indicated that the civil servants performances were more optimal during working from office. Thus we conclude that monitoring and evaluation are needed to enhance the work performance and discipline of civil servants in this situation.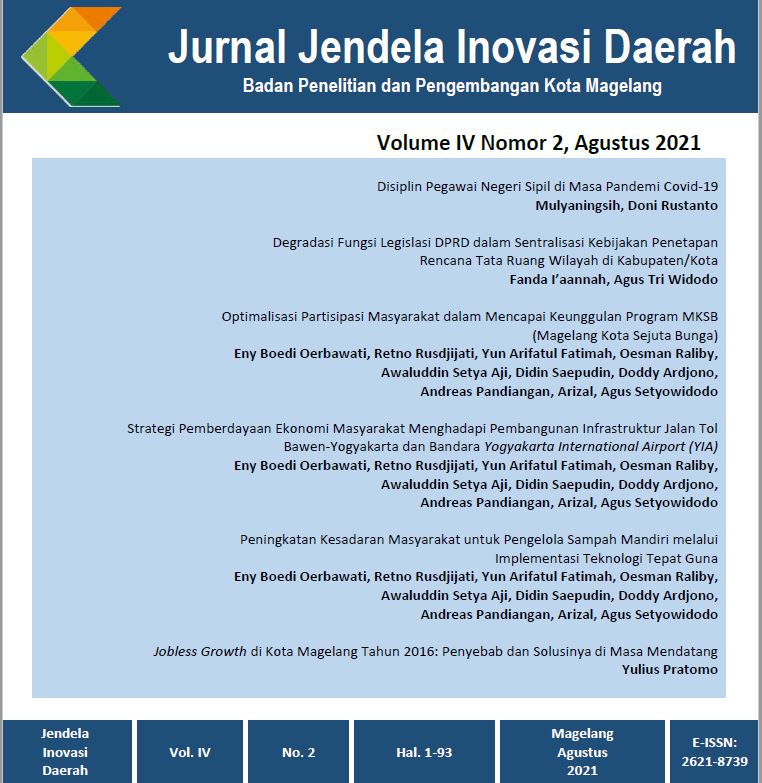 How to Cite
Mulyaningsih, M., & Rustanto, D. (2021). DISIPLIN PEGAWAI NEGERI SIPIL DI MASA PANDEMI COVID-19. Jurnal Jendela Inovasi Daerah, 4(2), 1-11. https://doi.org/10.56354/jendelainovasi.v4i2.104
Copyright (c) 2021 Jendela Inovasi Daerah
This work is licensed under a Creative Commons Attribution-NonCommercial-NoDerivatives 4.0 International License.