PENGARUH PERKEMBANGAN SEKTOR PARIWISATA TERHADAP PENYERAPAN TENAGA KERJA DI PROVINSI JAWA TENGAH
Syaqina Arunda Salsabilla

Universitas Tidar

Lorentino Togar Laut

Universitas Tidar
Keywords:
Labor, Hotel, Restaurant, Tourist Attraction
Abstract
The tourism sector plays an important role as a source of foreign exchange earnings, especially by reducing unemployment and increasing national productivity, which can encourage the country's economic growth. The purpose of this study is to find out how the tourism sector affects employment in Central Java Province in 2016-2020. The data used in this study is secondary data obtained from related sources which is then processed using panel data regression analysis with the Eviews 10 application.  The results of this study indicate a positive and significant effect of the number of hotels on employment. While the variables of the number of tourist attractions and the number of restaurants have a negative and significant effect on employment in Central Java Province in 2016-2020.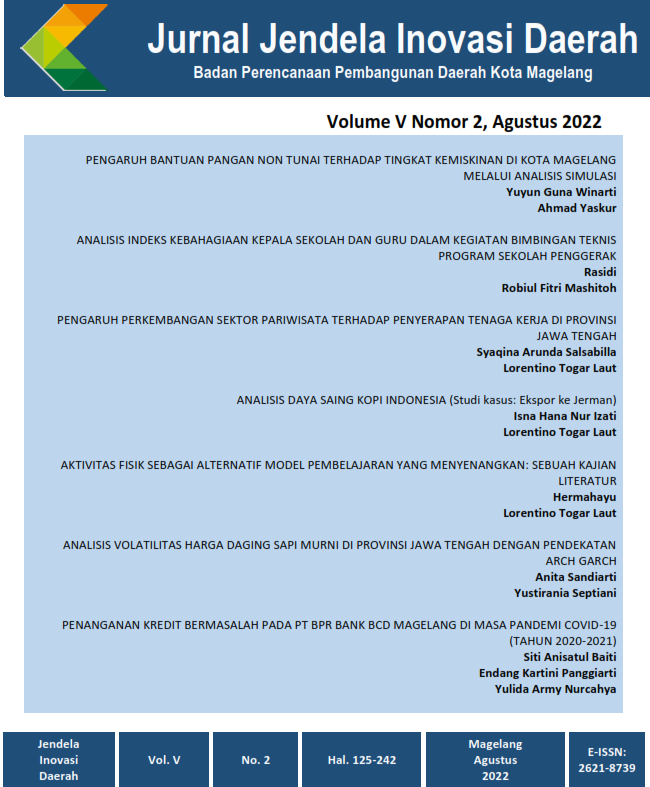 How to Cite
Salsabilla, S. A., & Laut, L. T. (2022). PENGARUH PERKEMBANGAN SEKTOR PARIWISATA TERHADAP PENYERAPAN TENAGA KERJA DI PROVINSI JAWA TENGAH. Jurnal Jendela Inovasi Daerah, 5(2), 164-175. https://doi.org/10.56354/jendelainovasi.v5i2.127
Copyright (c) 2022 Jurnal Jendela Inovasi Daerah
This work is licensed under a Creative Commons Attribution-NonCommercial-NoDerivatives 4.0 International License.