ANALISIS POTENSI MASYARAKAT TERHADAP RENCANA KEGIATAN PERTANIAN PERKOTAAN DI KOTA MAGELANG Studi Kasus: Kecamatan Magelang Utara
Sri Purwanti

Badan Perencanaan Pembangunan Daerah Kota Magelang
Keywords:
Potency, Public, Urban Farming
Abstract
The issue of food security is a global issue that characterizes subtropical countries and urban areas where the inability to produce their own food while the high conversion of agricultural land functions is a threat to society. That is why the concept of urban farming is currently developing as an effort to deal with food scarcity or as a conscious effort to maximize the function of narrow urban spaces to make them more useful and productive. Quantitative methods are used in order to obtain data and information related to the potential of the community in terms of competency and ability aspects in carrying out plans for urban agricultural activities and based on findings in the field showing that the community is able and has the competence to carry out urban agricultural plans in terms of evidence from community participation in planting plants in the yard and waste management as support for plant cultivation so that it is economical and affordable for all groups.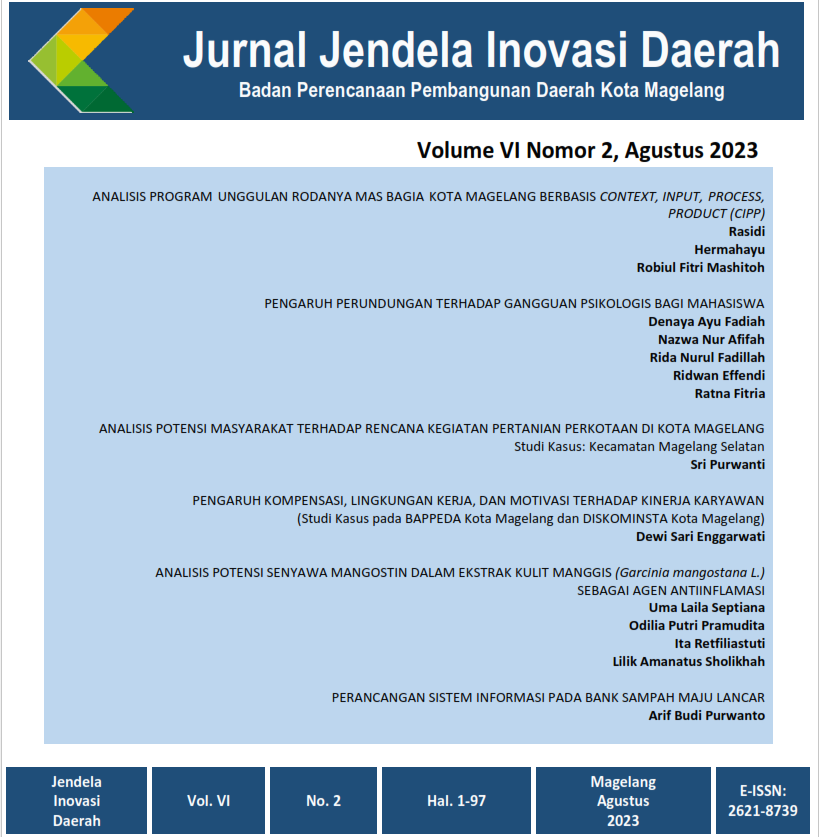 How to Cite
Purwanti, S. (2023). ANALISIS POTENSI MASYARAKAT TERHADAP RENCANA KEGIATAN PERTANIAN PERKOTAAN DI KOTA MAGELANG Studi Kasus: Kecamatan Magelang Utara. Jurnal Jendela Inovasi Daerah, 6(2), 46-57. https://doi.org/10.56354/jendelainovasi.v6i2.142
Copyright (c) 2023 Jurnal Jendela Inovasi Daerah
This work is licensed under a Creative Commons Attribution-NonCommercial-NoDerivatives 4.0 International License.