ANALISIS POTENSI SENYAWA MANGOSTIN DALAM EKSTRAK KULIT MANGGIS (Garcinia mangostana L.) SEBAGAI AGEN ANTIINFLAMASI
Uma Laila Septiana

Universitas Tidar

Odilia Putri Pramudita

Universitas Tidar

Ita Retfiliastuti

Universitas Tidar

Lilik Amanatus Sholikhah

Universitas Tidar
Keywords:
Mangosteen, Mangosteen Peel, Anti-inflammatory, Inflammatory
Abstract
Anti-inflammatory drugs are a type of medication used to treat inflammation. The mechanism of action of anti-inflammatory drugs involves inhibiting the activity of enzymes that contribute to the inflammatory process (Gonzáles-Gallego, 2007). There are two common types of anti-inflammatory drugs: steroid anti-inflammatories and nonsteroidal anti-inflammatories (Widiyantoro, 2012). Literature review is a method used to address issues by exploring existing written sources. Through literature review, we can search for references from various reliable sources such as books, journals, magazines, theses, dissertations, and other relevant sources like the internet and newspapers. Mangosteen peel contains various chemical compounds such as saponins, tannins, flavonoids, steroids, quinones, as well as minerals like sodium, potassium, magnesium, calcium, iron, and copper. The mangosteen peel also contains active compounds such as xanthones and their derivatives, including α-mangostin , beta-mangostin, γ-mangostin, garcinone, mangostanol, and gartinin. One of the active compounds in mangosteen peel with anti-inflammatory effects is γ-mangostin.. Mangosteen has the potential to treat various diseases such as cancer, heart disease, and neurodegenerative disorders. This potential has been acknowledged by numerous studies and researchers.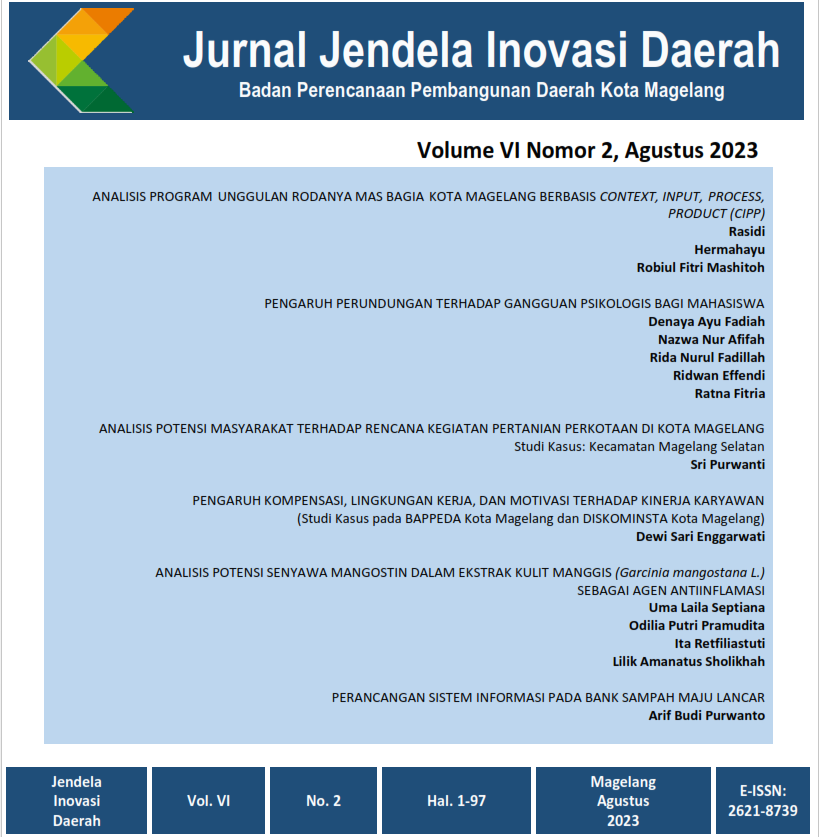 How to Cite
Septiana, U. L., Pramudita, O. P., Retfiliastuti, I., & Sholikhah, L. A. (2023). ANALISIS POTENSI SENYAWA MANGOSTIN DALAM EKSTRAK KULIT MANGGIS (Garcinia mangostana L.) SEBAGAI AGEN ANTIINFLAMASI. Jurnal Jendela Inovasi Daerah, 6(2), 72-86. https://doi.org/10.56354/jendelainovasi.v6i2.147
Copyright (c) 2023 Jurnal Jendela Inovasi Daerah
This work is licensed under a Creative Commons Attribution-NonCommercial-NoDerivatives 4.0 International License.