ANALISIS SEKTOR UNGGULAN UNTUK MEWUJUDKAN KOTA MAGELANG YANG MAJU DAN BERDAYA SAING
Erika Febrianti

Universitas Tidar

Sudati Nur Sarfiah

Universitas Tidar
Keywords:
Regional Economic Development, Leading Sector, Competitiveness
Abstract
Identifying leading sectors is important, especially in determining future economic development strategies. Therefore, this study was conducted in order to improve the economic competitiveness of Magelang City as the vision that stated in RPJPD Magelang City 2005-2025 with redaction "Magelang as a service city that cultured, advanced and competitive in civil society". The methods used is a combined analyst of static and dynamic Location Quotient (LQ), Shift-share, Growth Ratio Model (MRP), Overlay, and Klasssen Typology. The results showed that 4 (four) sectors are classified into advanced and rapidly growing sectors: electricity, gas and water supply; transportation and warehousing; Mandatory government administration, defense, and compulsory social security; and Educational services. Economic development strategies to improve the economic competitiveness of Magelang city can bedone in short, medium, and long term.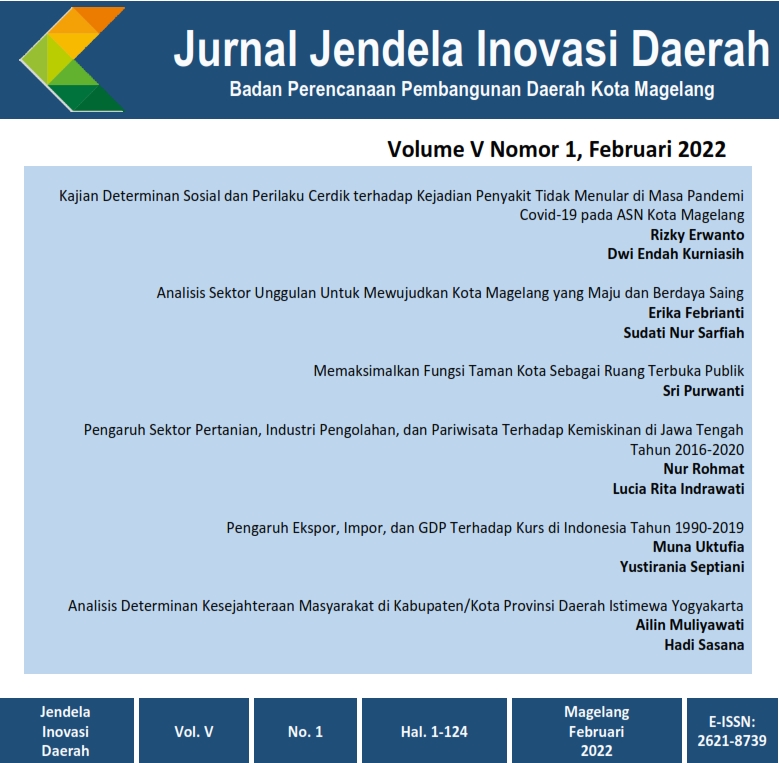 How to Cite
Febrianti, E., & Sarfiah, S. N. (2022). ANALISIS SEKTOR UNGGULAN UNTUK MEWUJUDKAN KOTA MAGELANG YANG MAJU DAN BERDAYA SAING. Jurnal Jendela Inovasi Daerah, 5(1), 28-55. https://doi.org/10.56354/jendelainovasi.v5i1.110
Copyright (c) 2022 Jendela Inovasi Daerah
This work is licensed under a Creative Commons Attribution-NonCommercial-NoDerivatives 4.0 International License.