KAJIAN DETERMINAN SOSIAL DAN PERILAKU CERDIK TERHADAP KEJADIAN PENYAKIT TIDAK MENULAR DI MASA PANDEMI COVID-19 PADA ASN KOTA MAGELANG
Rizky Erwanto

Indonesia Ramah Lansia

Dwi Endah Kurniasih

Indonesia Ramah Lansia
Keywords:
Civil servant, Social Determinants, Non-Communicable Diseases, CERDIK, Covid 19
Abstract
The case of COVID-19 has spread among civil servants in Magelang City. The presence of comorbidities can aggravate the condition so that it can cause death. The social determinants and behavior of CERDIK are one of the factors that can prevent non-communicable or comorbid diseases. The purpose of this study was to see the relationship between social determinants and CERDIK behavior in civil servants on the incidence of comorbidities to handling the covid 19 pandemic in Magelang City. The research method used an explanatory mix method study with a sample of 287 civil servants. Samples were taken by accidental sampling method. Respondents who experienced Non-Communicable Diseases (NCD) were 20.9% with the most common type of NCD, that is hypertension at 7.32%. Respondents who do not have regular health checks, who have smoking behavior, do not consume vegetables and fruit, never do physical activity, lack rest and stress of having NCD. The most dominant variable influencing the incidence of NCD in respondents is the age variable. The existence of NCD and risk factors for NCD events can exacerbate the incidence of other diseases, including the presence of COVID-19 cases, so treatment for NCD is needed through Posbindu at the institutional level.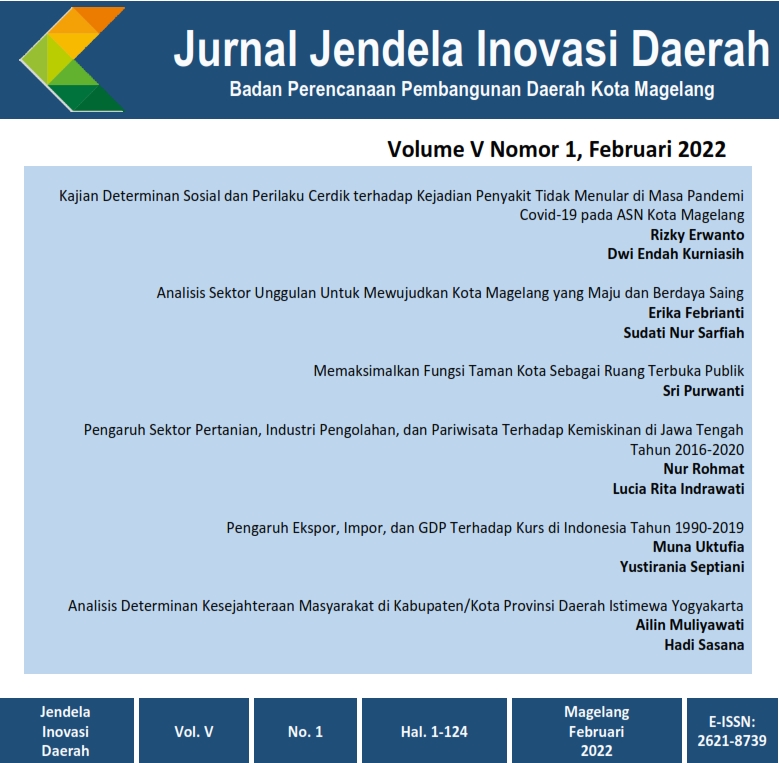 How to Cite
Erwanto, R., & Kurniasih, D. E. (2022). KAJIAN DETERMINAN SOSIAL DAN PERILAKU CERDIK TERHADAP KEJADIAN PENYAKIT TIDAK MENULAR DI MASA PANDEMI COVID-19 PADA ASN KOTA MAGELANG. Jurnal Jendela Inovasi Daerah, 5(1), 1-27. https://doi.org/10.56354/jendelainovasi.v5i1.112
Copyright (c) 2022 Jendela Inovasi Daerah
This work is licensed under a Creative Commons Attribution-NonCommercial-NoDerivatives 4.0 International License.