MEMAKSIMALKAN FUNGSI TAMAN KOTA SEBAGAI RUANG TERBUKA PUBLIK
Sri Purwanti

Badan Perencanaan Pembangunan Daerah Kota Magelang
Keywords:
City Park, Green Open Space, Function, Utilization
Abstract
City Park is a form of Urban Green Open Space (RTHKP), is a demand for each region in Indonesia to provide public green open space of 20% of the total area. Based on the Regulation of the Minister of Public Works Number 05/PRT/M/2021 concerning Guidelines for Provision and Utilization of Green Open Spaces in Urban Areas, it is stated that Green Open Spaces have Ecological, Socio-Cultural, Economic and Aesthetic functions. The problem at this time is that the use of parks is not optimal in accordance with their ideal functions so that it requires an initiation from the Government in order to maximize the use of this Public Open Space to improve the Quality of Life of the Community and the Welfare of the People in Urban Areas through increasing economic and socio-cultural functions in accordance with the Guidelines. Provision and Utilization of Green Open Spaces in Urban Areas.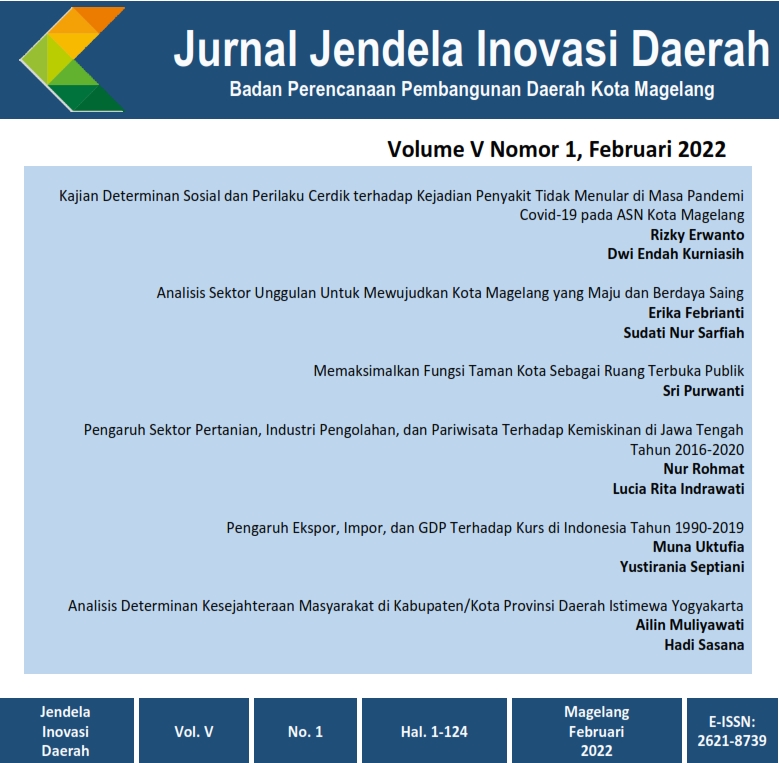 How to Cite
Purwanti, S. (2022). MEMAKSIMALKAN FUNGSI TAMAN KOTA SEBAGAI RUANG TERBUKA PUBLIK. Jurnal Jendela Inovasi Daerah, 5(1), 56-70. https://doi.org/10.56354/jendelainovasi.v5i1.114
Copyright (c) 2022 Jendela Inovasi Daerah
This work is licensed under a Creative Commons Attribution-NonCommercial-NoDerivatives 4.0 International License.