ANALISIS DETERMINAN KESEJAHTERAAN MASYARAKAT DI KABUPATEN/KOTA PROVINSI DAERAH ISTIMEWA YOGYAKARTA
Ailin Muliyawati

Fakultas Ekonomi Universitas Tidar

Hadi Sasana

Universitas Tidar
Keywords:
Community Welfare, Income Disparity, TPT, Economic Growth
Abstract
This research has to analyze the factors that affect the welfare of the people in the districts / cities of the Special Region of Yogyakarta (DIY) measured by using the Human Development Index (HDI). In this study, quantitative research methods were used using panel data regression analysis of the fixed effects model (FEM) with the Generalized Least Square (GLS) method. The results showed that the variables of income disparity and TPT (Open Unemployment Rate) did not significantly influence the welfare of the people in districts / cities of the Province of D.I. Yogyakarta. Non-food Expenditure Variables and Economic Growth have a significant effect on the welfare of the community in the district / city of Province D.I. Yogyakarta in 2015-2020.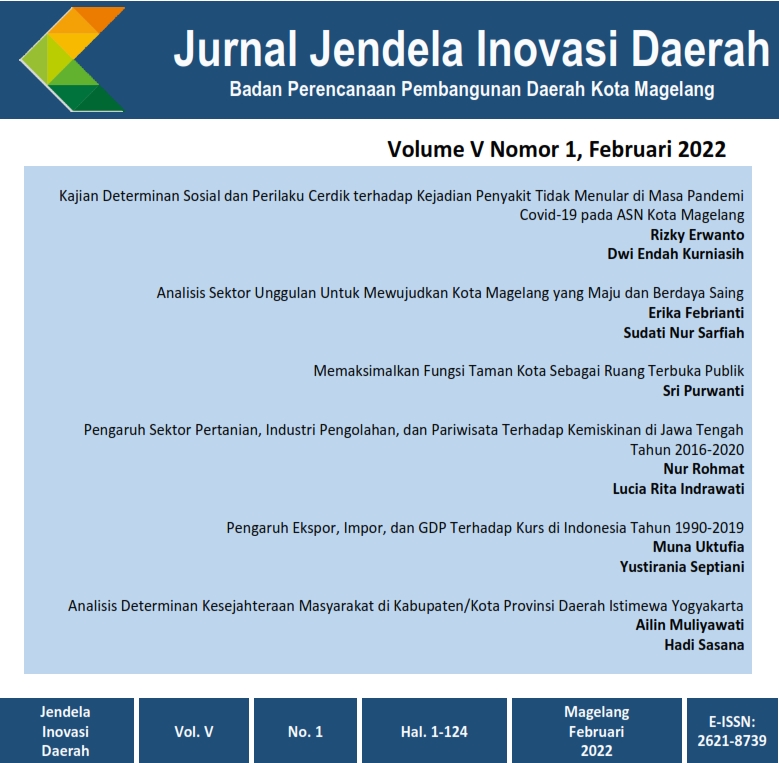 How to Cite
Muliyawati, A., & Sasana, H. (2022). ANALISIS DETERMINAN KESEJAHTERAAN MASYARAKAT DI KABUPATEN/KOTA PROVINSI DAERAH ISTIMEWA YOGYAKARTA. Jurnal Jendela Inovasi Daerah, 5(1), 104-124. https://doi.org/10.56354/jendelainovasi.v5i1.116
Copyright (c) 2022 Jendela Inovasi Daerah
This work is licensed under a Creative Commons Attribution-NonCommercial-NoDerivatives 4.0 International License.