PENGARUH EKSPOR, IMPOR, DAN GDP TERHADAP KURS DI INDONESIA TAHUN 1990 - 2019
Muna Uktufia

Fakultas Ekonomi,Universitas Tidar

Yustirania Septiani

Universitas Tidar
Keywords:
Export, Import, Gross Domestic Product, Exchange Rate
Abstract
Indonesia is a country that is rich in natural resources, it should have a better international trade performance in increasing the exchange rate. The purpose of this study is to determine the effect of exports, imports and GDP on the exchange rate in Indonesia in 1990-2019. The data used in this study is time series data for 1990-2019 obtained from the official website of the world bank and the Central Statistics Agency. This study uses ECM. This study analyzes the relationship between the long-term and short-term variables used. The estimation results from the cointegration equation show that in the long run Export, Import and GDP variables have a significant effect on the Exchange Rate in Indonesia.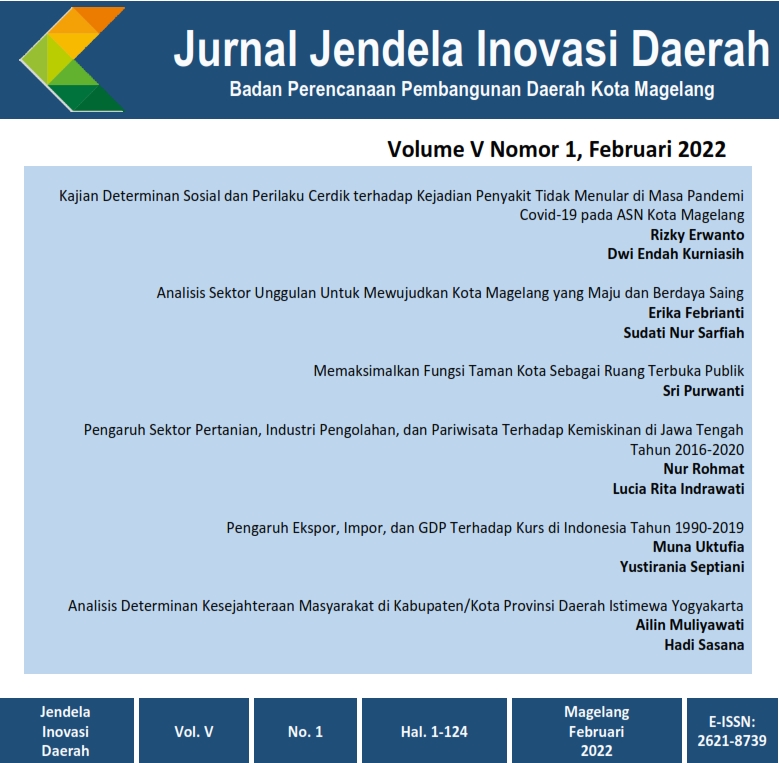 How to Cite
Uktufia, M., & Septiani, Y. (2022). PENGARUH EKSPOR, IMPOR, DAN GDP TERHADAP KURS DI INDONESIA TAHUN 1990 - 2019. Jurnal Jendela Inovasi Daerah, 5(1), 88-103. https://doi.org/10.56354/jendelainovasi.v5i1.117
Copyright (c) 2022 Jendela Inovasi Daerah
This work is licensed under a Creative Commons Attribution-NonCommercial-NoDerivatives 4.0 International License.